Odisha Judicial Academy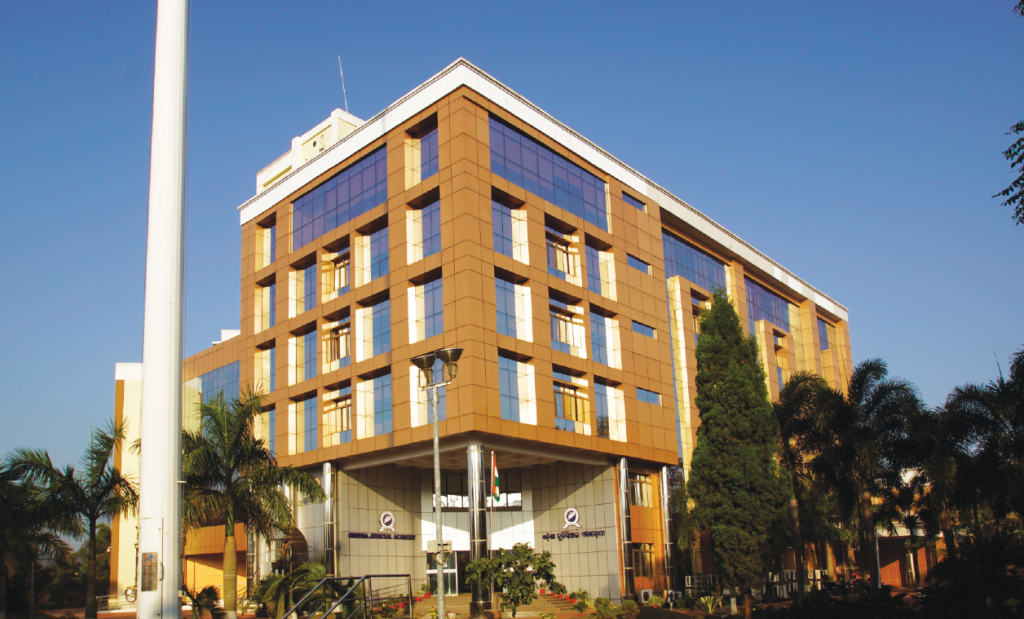 Odisha Judicial Academy (OJA) provides training to the Judicial Officers to make them professionally competent, sensitive and responsive to the challenges that their work entails. The vision of the OJA is to equip the judicial officers with theoretical knowledge as well as administrative and management skills to enable them to strive for excellence in their task of dispensing justice.

The OJA has been conducting training programmes on different components like institutional training, evaluation and correctional training, sharing best practices of different judicial academies etc. The OJA has developed training programmes for both newly recruited as well as in-service Judicial Officers. It also has programmes designed to sensitise Public Prosecutors, members of the Juvenile Justice Board, Police Officers, Mediators, Conciliators, Court Managers, Staff of the District Courts and the High Court.
OJA focuses on updation of knowledge, sharpening of judicial skills, sensitization of judicial officers on social issues in the fields of, inter alia, gender, physical and mental disabilities, poverty, access to justice and environment.

During the year, 19 refresher courses were held for all cadres of Judicial Officers of the State. Each refresher Course contained components focusing on knowledge, skill, attitude and judicial ethics, commensurate with the need of the target group.

Participants were supplied with reading materials on the topics. To enhance participation besides sharpening research skills, the participants were divided into groups of 4 or 5. Each group made a presentation on the topic assigned to it.

Webinar on "Challenges faced by the Courts during the Pandemic"

On 16th and 17th January 2021, a webinar was organised by the OJA through virtual and physical mode on the subject "Challenges faced by the Court during the Pandemic". Justice G.B. Pattanaik and Justice Dipak Misra, both former Chief Justices of India, and Justice D.P. Mohapatra, Dr. Justice A. Pasayat, and Justice A.K. Pattanaik, former Judges of the Supreme Court of India addressed the participants. The Chief Justice and the Judges of the High Court, and all judicial officers of the district courts as well as the members of the Bar Association attended the webinar.

Induction training for Newly Recruited Civil Judges as per the Draft Calendar

The OJA conducts every year induction training for freshly recruited officers of the OJS (Odisha Judicial Services) and OSJS (Odisha Superior Judicial Services).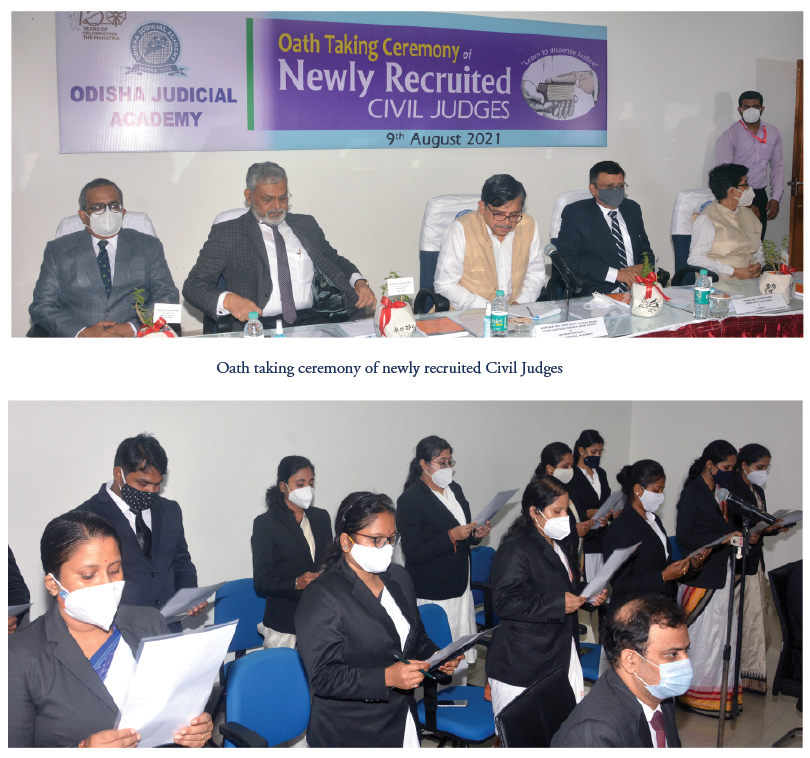 The newly recruited OJS Officers are either fresh law graduates or have just a few years of experience at the Bar. The principal aim of the Induction Course is to build a strong foundation for their careers as Judges. The prime focus of the Induction Course, therefore, is on inculcation of judicial ethics, development of judicial skills and aptitude, sensitization to social issues.

During 2021, 47 OJS Officers joined to undergo training at Odisha Judicial Academy (OJA). A Civil Judge (on Probation), who is an OJS Officer, undergoes 6 (six) months institutional training at OJA which includes one week of training at different Judicial Academies (known as Sharing of Best Practices) of other States, two days visit to Jail, a day's visit to FMT Department of a Medical College, two days visit to State Forensic Science Laboratory (SFSL), a day's visit to State Authority, a day's visit to State Secretariat, a day's visit to State Assembly and three days of Grass Root Level Elementary Programme which includes visit to slums, geriatric homes etc., and one week training at Revenue Officers Training Institute (ROTI). Further, these Officers undergo five months field training and one-month accounts training at Madhusudan Das Regional Academy of Financial Management (MDRAFM), Bhubaneswar.

12 Civil Judges (on probation) of the 2019 batch joined on 9th August, 2021 and 35 officers joined on 13th September, 2021 for institutional training at OJA. They were relieved from the OJA on 23rd October, 2021 for field training to their respective judgeships. They undergo field training with judicial officers in the courts. While on field training, they are familiarized with the working of the police and the prisons.
Training Programmes
On 11th September 2021, a one-day special training programme on the topic "Hands-on Training Programme for Judicial Officers in conducting Virtual Hearing" was organized by the OJA. Dr. Justice D.Y. Chandrachud, Judge, Supreme Court of India and Chairperson, E-Committee inaugurated the programme and delivered the inaugural address.
In this special training, four technical sessions were conducted by different resource persons. Justice Talwant Singh, Judge, Delhi High Court deliberated on the topic 'A boon to justice delivery system in India', Ms. R. Arulmozhiselvi, Member (Human Resources), E-Committee, Supreme Court of India deliberated on the topic 'Procedural and technical aspects of conducting the V.C'. The Master Trainers nominated by the High Court conducted the practical session of this programme.

Details of different training Programmes organized during the year have been shown in tabular form at Appendix-J.