District Judiciary Map
Ganjam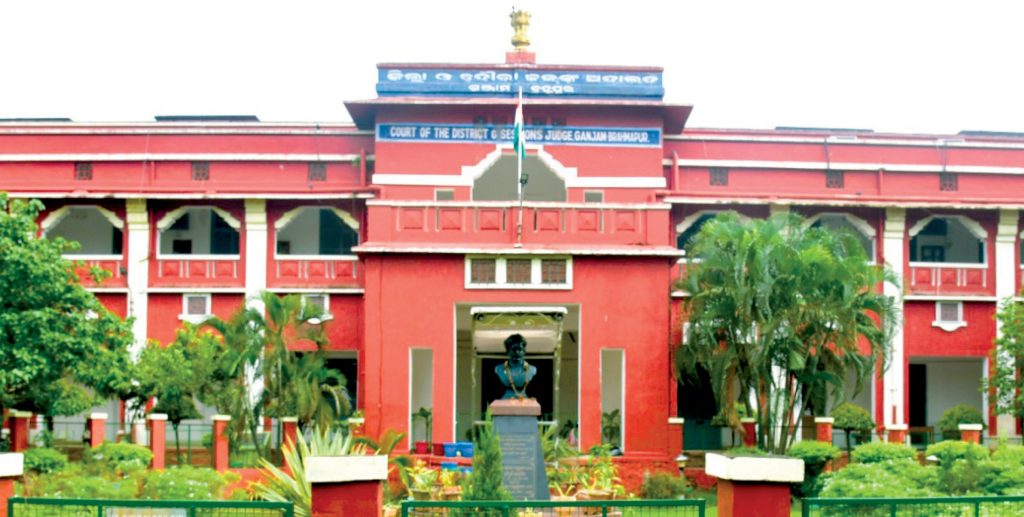 After the bifurcation of Ganjam & Puri districts on 10th June 1957, the reorganized Judgeship came to be known as Ganjam. In 1984, Phulbani District was carved out.On 2nd October 1992, a new District viz Gajapati was constituted and the name of the Judgeship was changed to Ganjam-Gajapati. On 30th July 2011, when Gajapati District was separated from this Judgeship, it came to be known as Ganjam Judgeship. The headquarters of Ganjam is located in Berhampur.

The District Court is functioning in an old building at Berhampur which was constructed in 1948 with 8 Court rooms. It is approximately spread over in land measuring Ac 3.491 Dec approximately and in 1948, a building with plinth area of 13,275 sq.ft. housing 10 Court rooms was constructed adjacent to the old building.

The construction of C type quarters at Berhampur for the Additional Chief Judicial Magistrate, Civil Judge Senior Division at an estimated cost of Rs.76,25,000/, Rs. 1,52,50,000/and Rs. 76,25,000/- respectively was completed by the OSPH & WC.
The OSPH & WC completed the C type quarters for ACJM, for the CJ(SD) at Berhampur as well as the Secretary of DLSA on 9th February, 2021. The district Court at Ganjam has 14 outlying stations; Chatrapur, Khallikote, Aska, Hinjilicut, Soroda, Seragarh, Polasara, Buguda, Kabisuryanagar, Kodala, Digapahandi, Sanakhemundi, Bhanjanagar, Patrapur and purushottampur.
The OSPH & WC is presently undertaking construction of the Court buildings of JMFC at Seragarh and Kabisuryanagar. It is also undertaking construction of the B type quarters for the III Addl. District Judge and Special Court Judge for Protection of Interests of Depositors (OPID) at Berhampur.

Shri Ram Shankar Hota was the District & Session Court Judge till 10th April 2021 followed by Shri Sashikanta Mishra from 13th April till 17th October, 2021. Shri Ananda Chandra Behera took over on 9th November, 2021.